Should The House Target "The Beast Mode Cowboy"?
Warring the following contains spoilers from the live feeds
I thought Id try a different kind of post here. This is an experiment to see if you guys like this kind of thing. If you do let me know and I will do more. We all love Big Brother! The drama, the games, the strategy all creates a captivating story and leaves us wondering what will happen next. I'm sure I'm not the only one to fantasize about playing the game or at least playing out scenarios of what might happen next in the house. That is what this post is about. Think of it like those "Choose Your Own Adventure Books" from when we were kids. I want to say this is a strictly hypothetical scenario. While there is some reason to believe this could happen it is not an official plan and in fact it looks like it will not. Victoria has won the POV which means Cody has to name a replacement to go up against Brittany. I believe now is the time to backdoor "The Beast Mode Cowboy" Caleb
.
Over the past few days Caleb's jealousy and irrationality have been at an all time high. He truly believes Amber owes him and Cody is stepping on his toes. He has been moping around the house and telling everyone who will listen that Amber and Cody are throwing it in his face. He is a strong competition threat and up until now was an ally of Cody. But with his recent mindset there is no telling what he would do if he wins HOH.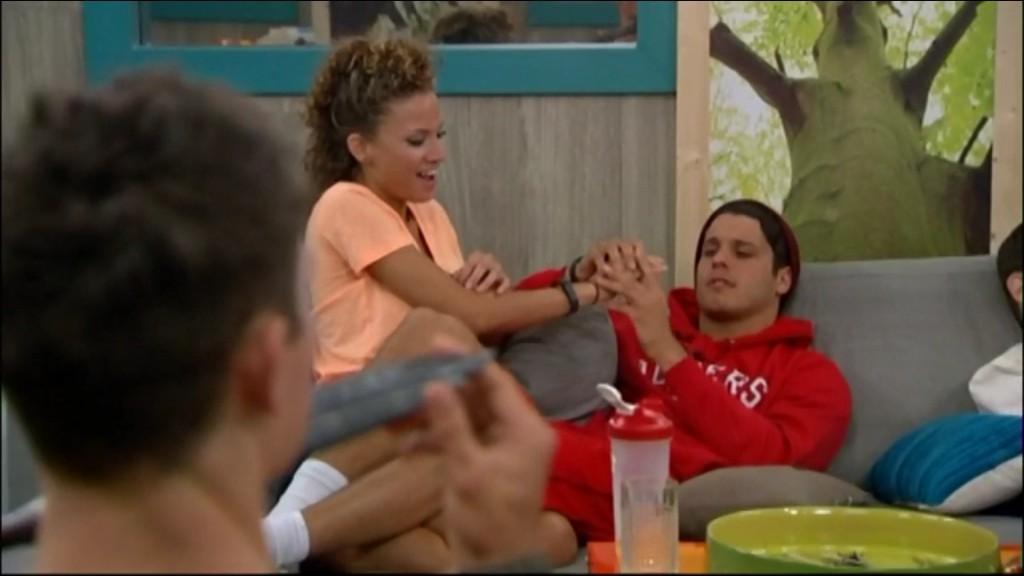 Lets think about who Cody is aligned with and who his options are as a replacement. Amber and Jocasta won the Battle of the Block therefore they can not be renominated. They would have been the best options to nominate opposite Brittany guaranteeing someone who would nominate Cody and his allies would be leaving. Derrick is Cody's strongest ally he is not going up. Christine, Frankie, and Zack are his next strongest allies and not an option for replacement. Hayden along with Nicole are also allies probably not options. That leaves just two viable options Donny and Caleb.
Donny is well liked by everyone in the house but not exactly trusted. He's secretly aligned with Derrick and Frankie in Team America. Jocasta is a solid ally of Donny as well. If he gets nominated against Brittany he probably stays. If they decided they want Brittany gone, and it looks like that, this will be their play.
But what if they want to make another power move and get Caleb out? Here is how I would do it. First you tell him if Donny goes up Brittany stays and she will be coming after them. That means one of us has to go up. Then you build up Caleb's ego saying he is the only one mentally strong enough to not crack under the pressure of the block. Tell him to imagine Zack or Frankie up there. There is also the added benefit out keeping Brittany quite thinking she is safe now. Tell him he will not go home over her because they have the votes. You say we had you last week we will have you again. Will he buy this? I think he might but even if he does not he can't stop you.
Why do I think this the best plan? Well you can get out two people this week.
Caleb - A huge physical threat who is an ally now but becoming more unhinged everyday.
Brittany - A paranoid loner in the house who you finally might be able to convince you have her back after saving her a second time.
Never waste an opportunity, you may not get it again, to take out a huge threat to your game. Should Caleb be backdoored? Do you like these kinds of articles? Tell me your thoughts in the comments below. You can also reach me on twitter
@CoryCShow
Make sure you check back for all the Big Brother content you desire. And download the
Big Brother Buddy App
and follow us on twitter
@BigBrotherBuddy
for instant updates from the house