Big Brother Premiere: The Crazy 8s, Double Ds, El Cuatro, And Team America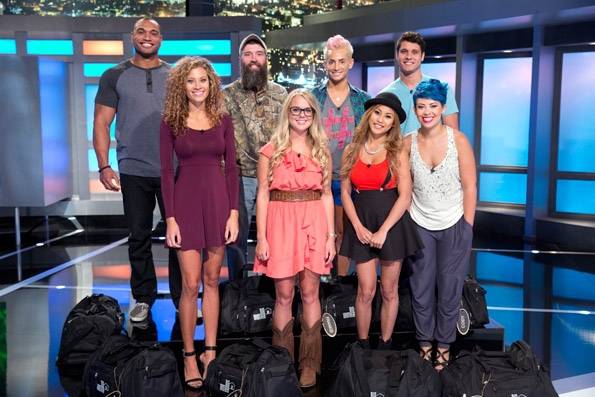 Warning the following contains spoilers from the first episode
.
On the 1st night of the 2 night premiere event of Big Brother we saw eight house guest enter the BB house. Three alliances have already formed and a forth was announced as one of this seasons twists. Lets brake down who has decided to team up and what their chances are of making it through the game.
The Crazy 8s - Amber, Cody, Devin, Donny, Frankie, Joey, Nicole, & Paola
This alliance formed with all of the first 8 house guest so far. Not knowing what is coming next the first 8 decided they had to have each others back. There seemed to be some apprehension from the group but no one wants to be the one to decline the offer. After winning the fist ever HOH with no guarantee of safety Frankie called upon the alliance to save him if anything crazy happens. Early and more so larger alliances tend to not last and I don't see a strong future with this group. These 8 might be
Crazy
to think this will work. (terrible joke I know)
Double Ds - Devin & Donny
These two joined together after a conversation in the bedroom. Devin wanted to make a secret alliance with the least likely person and Donny was his pick. They have given each other their trust and Donny admitted he is a huge fan of BB and has seen every season. If these two stick together they could be a force in the house. Donny seems to know the game and Devin is physically gifted. The issue could be the giant target those giant arms of Devin bring.
El

Cuatro- Amber, Joey, Nicole, & Paola
The four women came together in this years attempt to create an all female alliance. They all believe its finally time for a woman to with this game. Not like it wasn't just two seasons ago that a woman won. Also I speak zero Spanish but wouldn't La be more fitting then El? Ok I know I'm putting this team down already but I don't see this lasting more then a few days let alone even the week. I think their personalities are too different and Paola is the only one truly pushing this. I see Joey breaking away first.
Team America - ?, ?, ?
One of the seasons biggest twist is a secret alliance of 3. It sounds similar to Americas Player Eric from season 8. America will vote on who will be in it and for tasks for them to complete. We will find out who the first member is on Thursday and vote for the next 2 members. This could surely end up to be a strong team if they can work together after being forced to align.
What do you think of alliances so far? Which alliances will last and which will fall apart? Tell me your thoughts in the comments below. You can also reach me on twitter @CoryCShow.
Make sure you check back for all the Big Brother content you desire. And download the
Big Brother Buddy App
and follow us on twitter
@BigBrotherBuddy
for instant updates from the house.